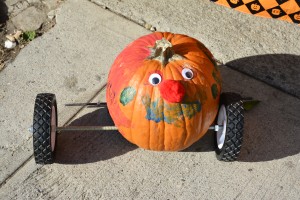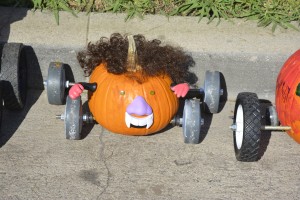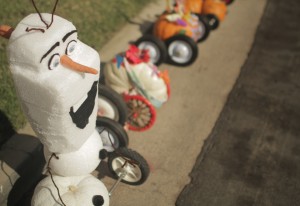 1. What if I'm not crafty, do I still have to decorate it?
YES! See Rule #1
2. What do you mean TWO INDEPENDANT AXLES THROUGH THE PUMPKIN?
TWO SINGLE RODS NEED TO PIERCE THROUGH YOUR PUMPKIN. NO PUMPKIN CAN SIT ON A BOARD (or WHATEVER) THAT HAS TWO AXLES ATTACHED. AXLES MUST NOT BE CONNECTED TO ONE ANOTHER BY ANY ADDITIONAL HARDWARE.
3. Can I carve my pumpkin?
GO FOR IT!
4. Can I gut my pumpkin and fill it with sand, pebbles, bricks, diamonds, handyman tools, candy etc?
 THIS WOULD BE A NO AND RACECAR WOULD BE DISQUALIFIED. THERE WILL BE A KNIFE ON HAND TO OPERATE ON ANY QUESTIONABLE PUMPKINS.
5. I have three kids, can they each enter a pumpkin?
YOU BET.
6. I have no kids, can I enter?
YOU BET.
7. What if I come late, can I still race?
YES, BUT IT WILL BE AT THE DISCRETION OF THE REFEREES AS TO WHETHER  IT WILL COUNT AS AN OFFICIAL ENTRY.
8. What if I have a small pumpkin and I'm racing a big pumpkin?
 REMEMBER THIS IS ABOUT FUN. WE CAN'T PREDICT THE OUTCOME OF THE INITIAL RANDOM DRAWING.
9. Where can I find wheels?
HOBBY STORE. MAYBE HARDWARE STORE. BIG BOX STORE. TRY A THRIFT STORE FOR AN OLD TOY WITH WHEELS.
10. I see I need an ADULT Pumpkin Catcher to catch my Pumpkin at the bottom of the hill. What if I don't have one?
 THE BEAUTY OF THE EVENT IS THAT ALL SORTS OF GREAT PEOPLE COME OUT TO WATCH. NOW'S THE PERFECT TIME TO MEET A NEW NEIGHBOR AND ASK HIM/HER TO BE YOUR CATCHER. (BE SURE YOU ASK AN ADULT.)